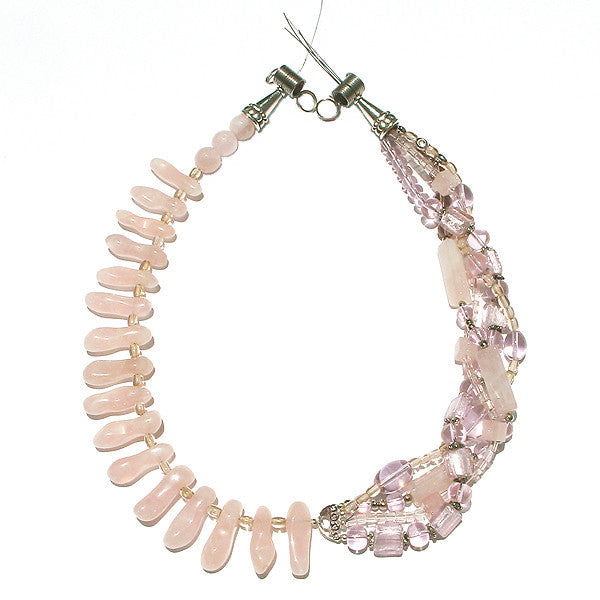 Harmonia - Rose Quartz Necklace
Nothing girly about this pink piece: in another color, the spiky pieces could be part of a warrior's garb. But in polished rose quartz, with its subtle marbling, it's the epitome of powerful femininity. Flaring out from a rhodium connector, four strands vie for attention, with rose quartz cubes and 3-sided beads, accompanied by pink glass in its many shades and forms: rounds and ovals, silver-lined rectangles with rounded edges and milky trade beads. The net effect is a piece that is as appropriate at a Board of Directors meeting as it is at an intimate tête-à-tête dinner.

Energies: Quartz is a power stone of clarity which dispels negativity and clears away negative energy. Because it can be used to purify and clarify on the spiritual, mental and physical planes, it is powerfully protective. In rose quartz, the strong passion and power of red is toned down to subtler, feminine aspects. Rose is a soothing color, useful to calm feelings of anger or resentment. Rose quartz is associated with the first (or base) chakra, the grounding chakra which deals with the health of the physical body. When it is out of balance rose quartz can be used effectively to realign the base chakra. The glass, which carries the energy of transformation, also transmits the vibrations of the specific color energies, in this case pink, which is the color ray of determination, commitment and caring.

Maximum length: 23.5 inches, finished off to that length (or shorter), including the clasp of your choice.  Click on 'Make It Yours' tab for details.