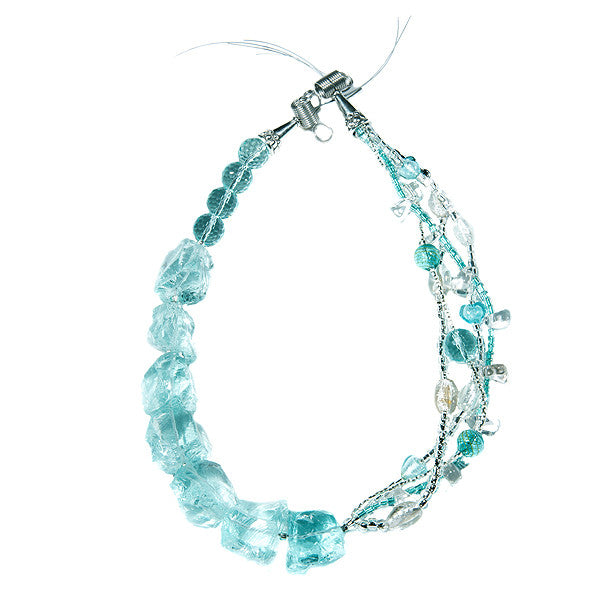 Atla - Aqua Quartz Necklace
If you sat on the deck of your over-water bungalow in Tahiti and looked out at the water, this is the color you'd see. So imagine large free-form, rough aqua quartz hammered into cubes, separated by similar-colored silver-lined beads, and finished off with faceted 15mm aqua crystal beads. If that weren't enough to fill your BFFs with envy, soak in the four strands of glass beads, silver-lined hearts and ovals, clear crystal cubes and nuggets ... in short, frothy "waves" of aqua and silver breaking on your fantasy beach. Where could you NOT wear this piece of pure heaven?

Energies: Quartz is a power stone of clarity which dispels negativity and clears away negative energy. Because it can be used to purify and clarify on the spiritual, mental and physical planes, it is powerfully protective. It is associated with the crown chakra and, further, is a stone of manifestation that energizes and activates the energy centers within the body. It helps one to focus and think clearly about dreams and desires. It assists in removing blockages in the body so energy can flow smoothly and enhances spiritual development. In its aqua form, it adds a restorative aspect, and tempers any possible excesses or extremes. The glass, which carries the energy of transformation, also transmits the vibrations of the specific color energies, in this case turquoise, which as a water energy helps one find oneself and return to equilibrium in one's life and feelings.

Maximum length: 23 inches, finished off to that length (or shorter), including the clasp of your choice.  Click on 'Make It Yours' tab for details.