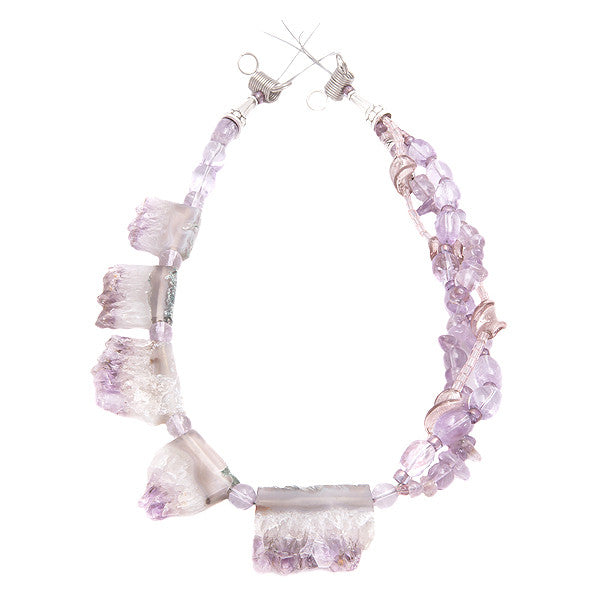 Freya - Amethyst Necklace
Five slices of perfectly imperfect amethyst, carved roughly out of the earth and begging to be tamed by their smoother amethyst sisters: round, oval and nugget-shaped polished beads. For more pop, two strands of these amethyst beads are joined by a pinker strand of twisted silver-in-glass "leaves" that are such a symbol of Venetian glass. The result is a mantle of pure energy that sits around your neck area, softly saying "spiritual' to anyone in the know. Not only is this piece visually stunning, it also makes you feel virtually unstoppable!

Energies: This amethyst is considered a stone of wisdom, as it enhances your psychic awareness. It has the ability of absorb negative energy while emitting positive energy. And although not known specifically as a prosperity stone, it is beneficial when dealing with legal problems and money issues, which can lead to prosperity and abundance. The glass has its own metaphysical properties, representing and carrying the energies of transformation, while transmitting the vibrations of the specific color energies, in this case, soft pink of romantic love and the silver color of the moon, the feminine and introspection.

Maximum length: 23 inches, finished off to that length (or shorter), including the clasp of your choice.  Click on 'Make It Yours' tab for details.