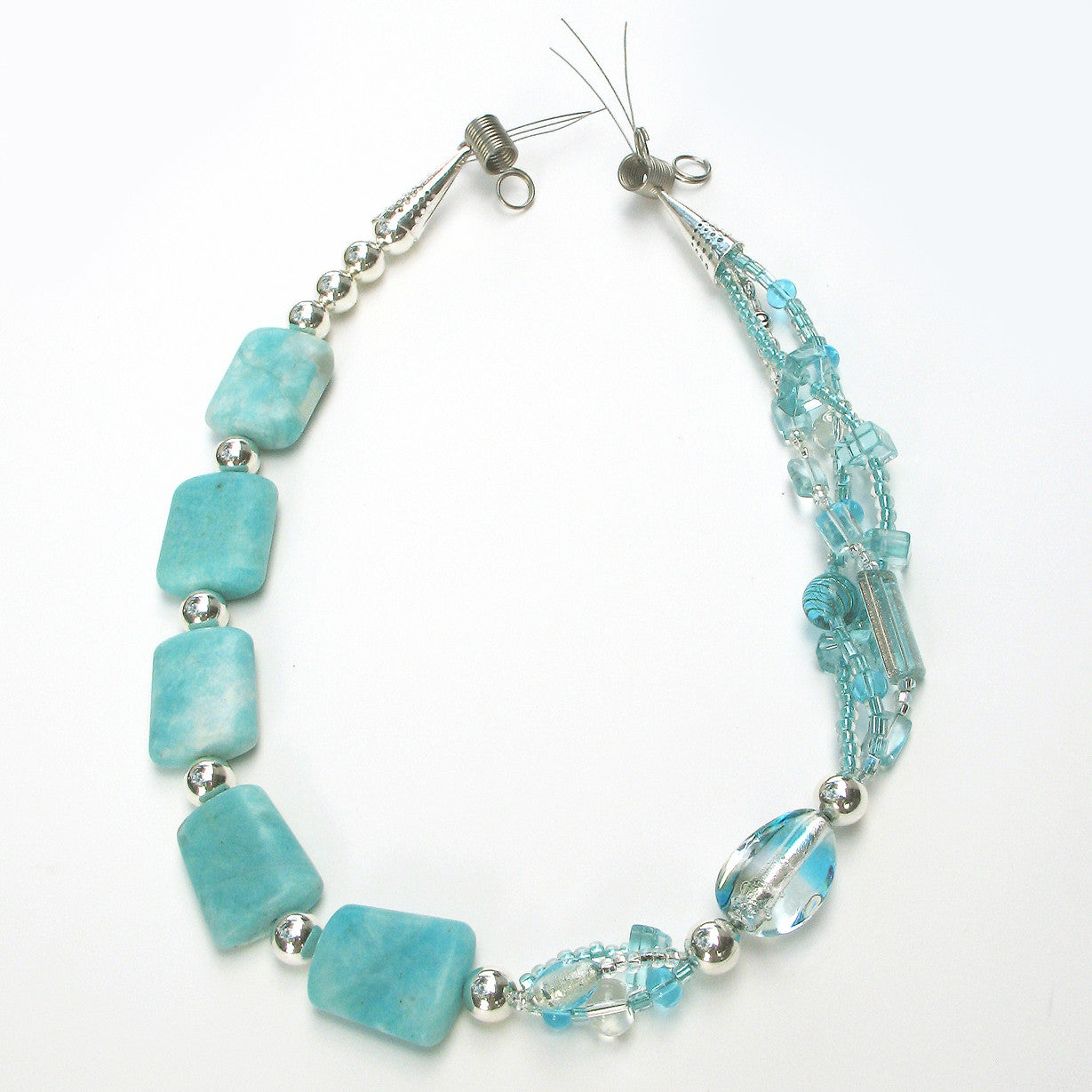 Mama Qucha - Amazonite and Art Glass Necklace
"Mama Qucha."  The name alone sounds reassuring!  As Inka Goddess of the Sea, she not only protects sailors and fishermen as they toil at sea, but also represents all that is feminine.  Five large Peruvian amazonite beads along one side of this necklace form protective shields, while the three strands of varied clear and aqua glass beads tumble up the other side like waves breaking on a beach.  Midway up is a 30mm pure Murano pear-shaped bead that has a .925 Sterling Silver core and a touch of aqua at one end.  Yang and yin.  Protective warrior ... and femininity personified.  Two sides of the necklace.  Two sides of so many women ... and a mantle any woman would want to assume.
Energies: Amazonite, a powerful stone linked to the heart and throat chakras, is known to pacify, soothe and harmonize. It is said to "soothe the spirit, calm the soul." It helps clear your path to the spiritual dimension by balancing energies. It is also beneficial to communication, allowing you to see both sides of a situation, then to speak with confidence and self assurance. Glass, with its transformational energies, transmits the vibrations of the specific color energies, in this case clear and aqua. The clear is excellent for amplifying the energies of other colors. While blues in general are related to the fifth--or throat--chakra, aqua specifically promotes play for those who work too hard and resonates with rejuvenation, releasing and receiving.

Maximum length: 23 inches, finished off to that length (or shorter), including the clasp of your choice.  Click on 'Make It Yours' tab for details.