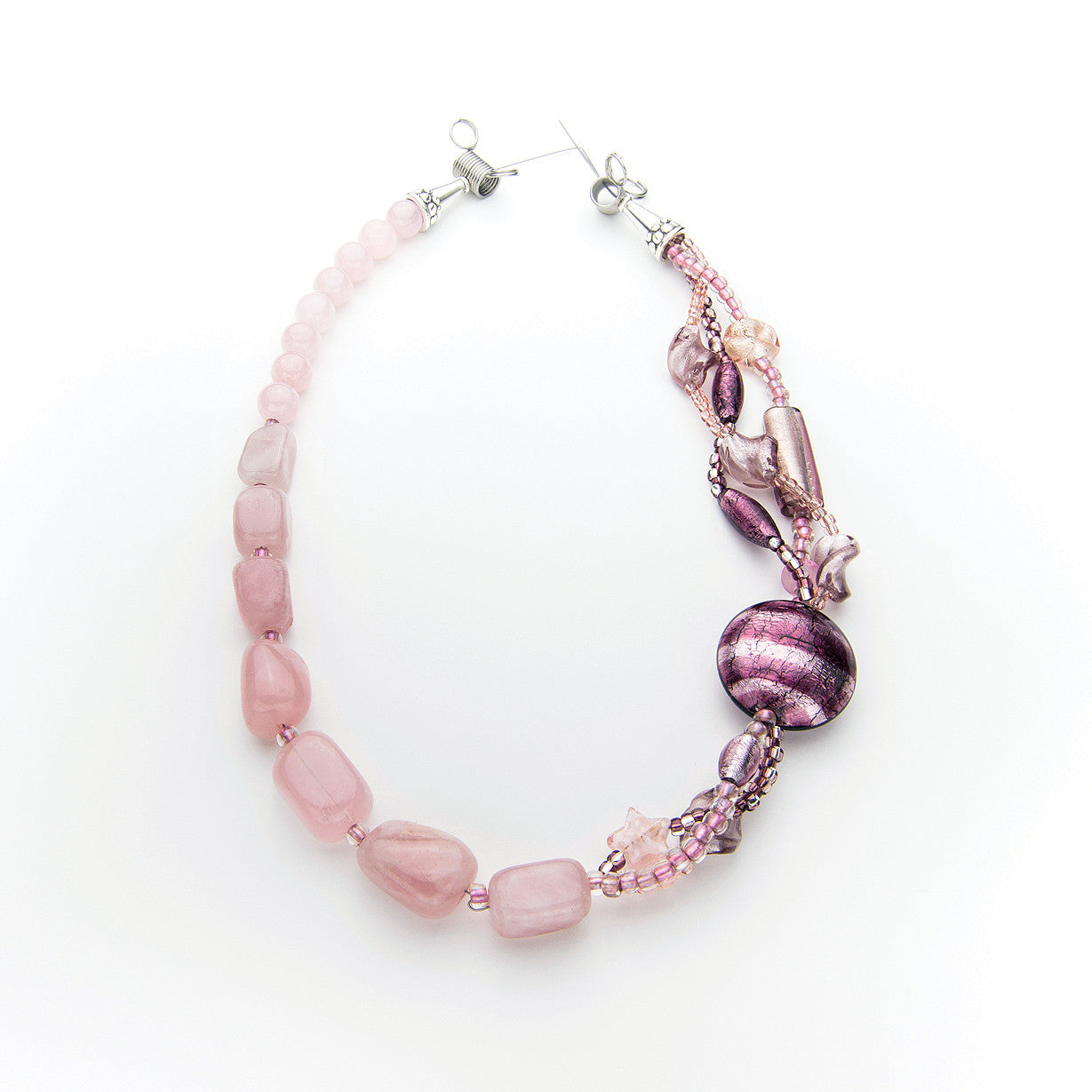 Lelya - Rose Quartz Nugget Necklace
You can tell February--and soon thereafter Spring--is approaching as we notice more pink and red around us.  Love is in the air.  And who better to declare it than Lelya, Slavic Goddess of Spring and Love.  We start with polished pink quartz nuggets that feel so good to the touch.  From there burst the symbols of Spring in glass form:  a little Venetian star, a flower, several twisted pink leaves.  And to be sure no one misses the message, we add one bold and beautiful  34mm Murano bead with stripes of amethyst and purple Murano glass over .925 Sterling Silver foil. Nothing shy about this badge of womanhood.
Energies: Quartz is a power stone of clarity which dispels negativity and clears away negative energy. Because it can be used to purify and clarify on the spiritual, mental and physical planes, it is powerfully protective. In rose quartz, the strong passion and power of red is toned down to subtler, feminine aspects. Rose is a soothing color, useful to calm feelings of anger or resentment. Rose quartz is associated with the first (or base) chakra, the grounding chakra which deals with the health of the physical body. When it is out of balance rose quartz can be used effectively to realign the base chakra. The glass, which carries the energy of transformation, also transmits the vibrations of the specific color energies, in this case pink, which is the color ray of determination, commitment and caring.

Maximum length: 24 inches, finished off to that length (or shorter), including the clasp of your choice.  Click on 'Make It Yours' tab for details.