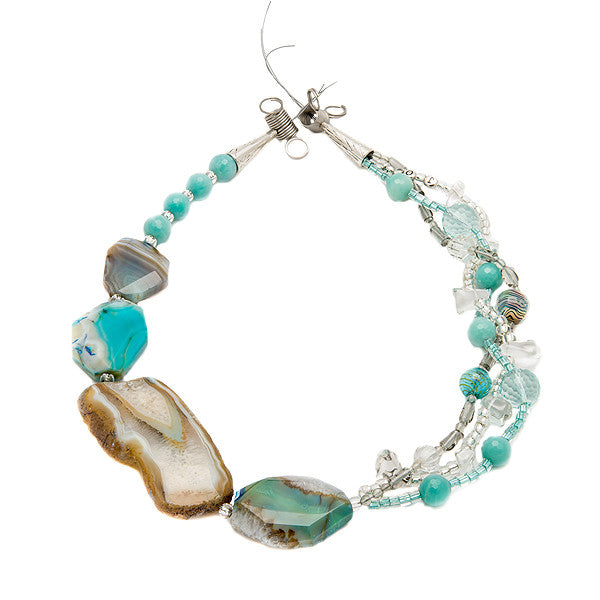 Thalassa - Caribbean Blue Agate Necklace
Agate beads the color of Caribbean waters -- four of them -- in the most incredible color variations. Cut straight from rough stone with all its inclusions and imperfections (they say Nature is perfect, but she sends us reminders of the contrary when she makes stones). Faceted amazonite beads complete that side of the necklace. More faceted amazonite (and faceted pale turquoise crystal) make up one of three strands on the other half. Pure clear glass beads and nuggets become the foil to the third strand: pale grey Murano glass wrapped like tiny croissants, studded by a clear glass onion, crystal cube, hollow blown bead ... and an exquisite blown lampwork bead that mimics one of the big agate pieces perfectly. If wearing this necklace doesn't make you feel as if you just stepped off the ship from your latest luxurious vacation cruise, I don't know what will!

Energies: Agates in general balance your yin-yang energy and stabilize your aura. They impart strength and courage, and affect different chakras depending on their color. This turquoise agate brings you back to center when your life is out of balance: too much passion or not enough, too much activity or not enough. The amazonite is known to pacify, soothe and harmonize. It balances energies, especially male/female energies, and helps one attune to the spiritual dimension. Amazonite is often associated with the throat chakra, thus being beneficial to communication, as well as to the third eye chakra. The glass, which carries the energy of transformation, also transmits the vibrations of the specific color energies, in this case turquoise, which as a water energy helps you find yourself and return to equilibrium in your life and feelings.

Maximum length: 23 inches, finished off to that length (or shorter), including the clasp of your choice.  Click on 'Make It Yours' tab for details.