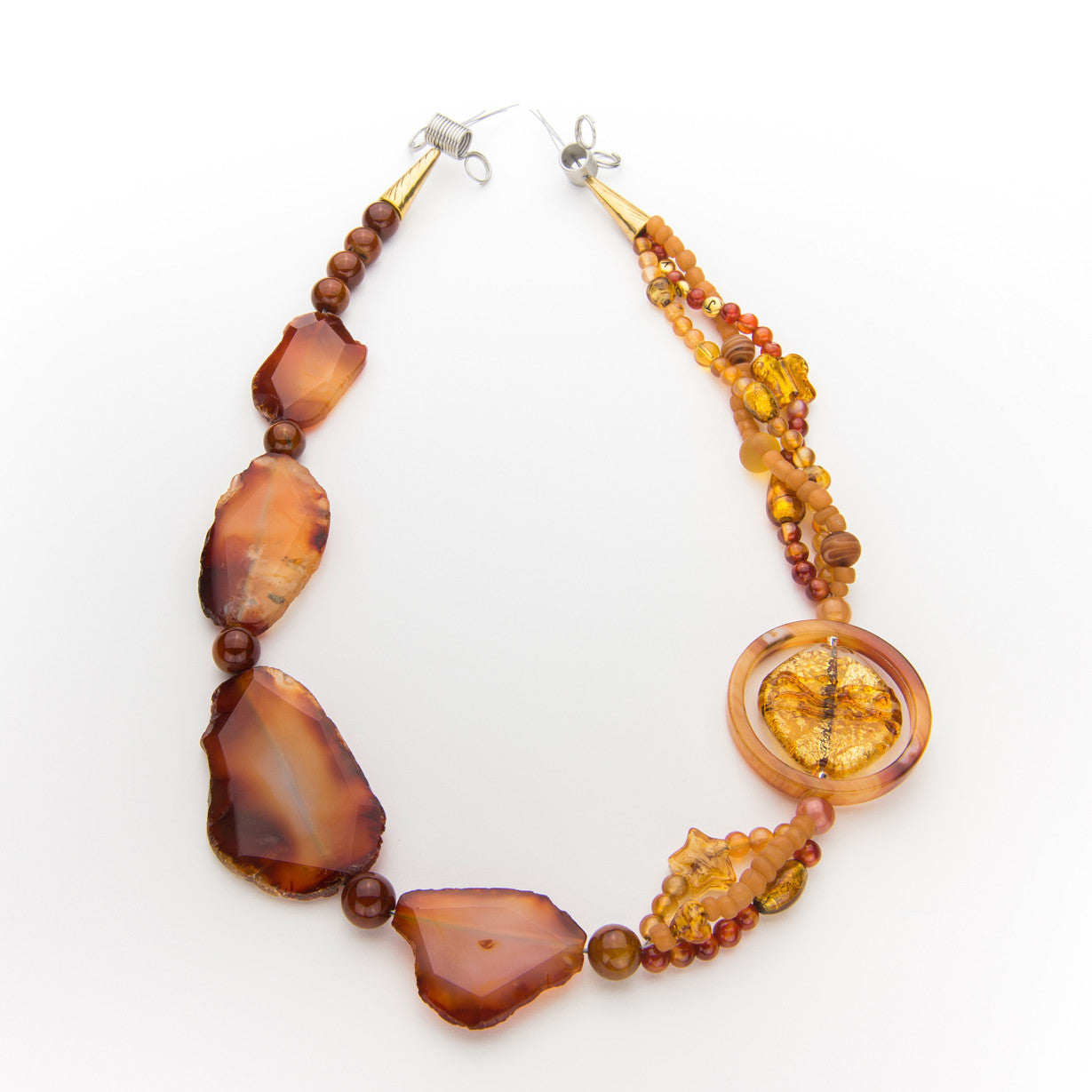 Cel - Carnelian Agate Necklace
Today we know the region as a vacation destination: Tuscany and Umbria.  But back around 600 BC, its inhabitants--the Etruscans--knew a thing or two about the riches that came out of the earth and the golden lifestyle that could follow. In this piece, the four carnelian agate slices of honey, red and warm brown recall the copper they pulled from their mines. Inside an agate ring spins a 35mm Venetian beauty: 24kt gold foil in the crackled Ca' d'Oro style is enveloped in clear Murano glass and decorated with drizzles of topaz-colored glass. Stunning! The three side strands are made up of special Murano glass shapes--a star, little hearts, a butterfly--plus vintage sommerso Venetian beads, agate beads of many colors and, for good measure, earthy African seed beads. All a fitting tribute to Cel, the Etruscan Goddess of the Earth. Wearing this necklace will raise your Earth Goddess status, too!

Energies: Agate has a stabilizing and strengthening influence. It is excellent for balancing emotional, physical and intellectual energy, and for harmonizing yin and yang, the positive and negative forces of the universe. Carnelian agate in particular awakens your inherent talents and produces inspiration from spiritual worlds. As a stone of passion and sexuality, it is associated with the root and sacral chakras. It is also one of the most helpful crystals to heal trauma, stress and emotional wounds that have accumulated in the aura. Glass, which carries the energy of transformation, also transmits the vibrations of the specific color energies: in this case warm amber, which makes us feel rich, secure and successful, and yellow, which shows high wisdom and intellectuality.

Maximum length: 24 inches, finished off to that length (or shorter), including the clasp of your choice. Click on 'Make It Yours' tab for details.