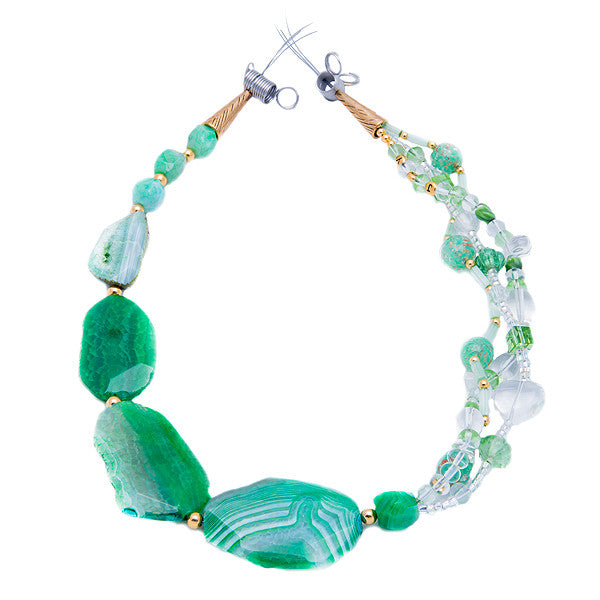 Danu - Green Agate Necklace
Was $270 ... Down nearly 17% for St Patrick's on the 17th! Luxuriant green agate beads, showing powerful banding, translucence, even crystallizing "druzy." Beyond their polish, you'll see how ruggedly unique each bead can be: nature at its "imperfect perfection." Pair that with the dancing greens on the three strands that balance out the necklace and what do you have? Richness. Abundance. (And you wonder why they call money "green"?) Starting with four beautiful "sommerso" vintage (real!) Murano beads ... on to the different greens in crystal cubes, melons, twists and rounds ... and finishing with a clear glass heart, melon, rondelles, nuggets ... so many shapes and colors making up this happy green necklace that you can't help but forget it's winter!

Energies: Agates in general balance your yin-yang energy and stabilize your aura. They impart strength and courage, and affect different chakras depending on their color. This agate's rich green color offers powerful conduits to the earth's Life Force of birth, development and creation ... the power of nature's constant renewal. The heart chakra is related to green stones and controls what we embrace and what we resist. The glass, which carries the energy of transformation, also transmits the vibrations of the specific color energies, in this case green, which is a potent aid in nurturing, whether of fledgling family relationships or new business ventures. It symbolizes new life in all its manifestations.

Maximum length: 24 inches, finished off to that length (or shorter), including the clasp of your choice.  Click on 'Make It Yours' tab for details.